That's right ladies and gentlemen. Not only did I witness an AWESOME concert at the BMU featuring The Reel Big Fish, but afterwards I met the band(Everyone cept Matt Wong. He's shy and didn't hang out afterwards. But I did scream "I love you Matt Wong" to him on stage, and he totally heard/saw me). Aaron, Scott and Johnny signed my shirt, and the Rabbit gave me his back stage bracelet.

I also got pictures with Aaron and Johnny.

They're so cute! I got to hug them!!!

I'm so freaking star struck right now. I've been listening to Reel Big Fish since I was a kid, and I can't believe I actually freaking met them!!!!!!!!

And here's a picture of me in my awesome signed shirt :-D

I'm still trying to get the pictures off my phone and on to my computer(I love the one of me and Johnny!).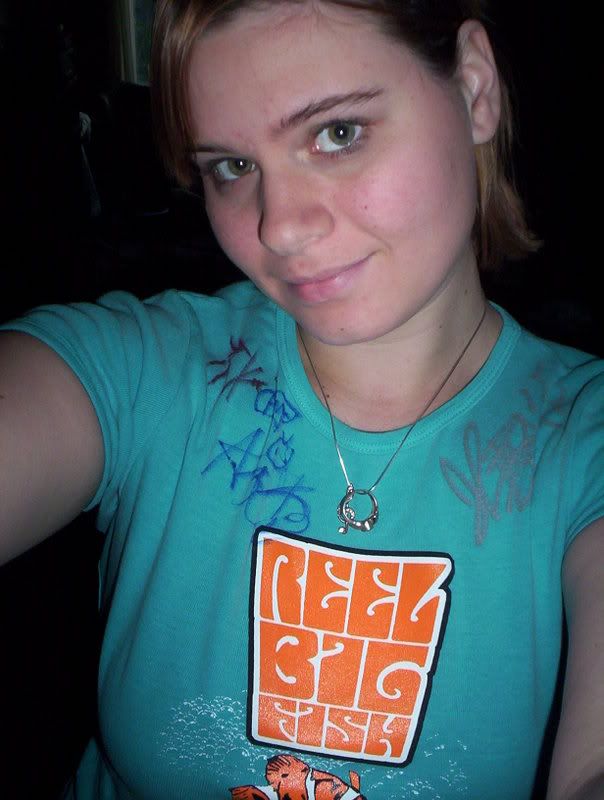 (Scott in red(looks black, but it's really a dark red), Aaron in blue and Johnny in silver).

I think I'm in love with Johnny Christianson by the way, he was totally digging me too. lol. We got to stand around and talk trumpet talk(I'm a trumpet player as well). I loved all the hugs he gave me!

Honestly, it was the best experience of my life so far. Having been a fan of theirs since 1995, I was totally lost for words when I first saw them in front of me. It was great.